Get a Better Outdoors with Modified Landscape Design
With over twenty years of experience, the team at Modified Landscape Design is setting the standard for sustainable landscape practices and environmentally friendly outdoor solutions. We work with clients in the San Gabriel Valley and San Fernando Valley in Los Angeles, in addition to San Francisco's Silicon Valley, to create vibrant landscapes that enhance our local homes and businesses while consuming less water.
As full-service landscape contractors, we offer a complete range of services to meet every outdoor need. Expand your home with our outdoor living space installations or invest in your business's future with commercial landscaping. Transform your home with our landscape design services or protect its long-term health with ongoing care and maintenance. No matter the job, when you work with us, you'll benefit from clear and transparent communication and a process that prioritizes your satisfaction every step of the way.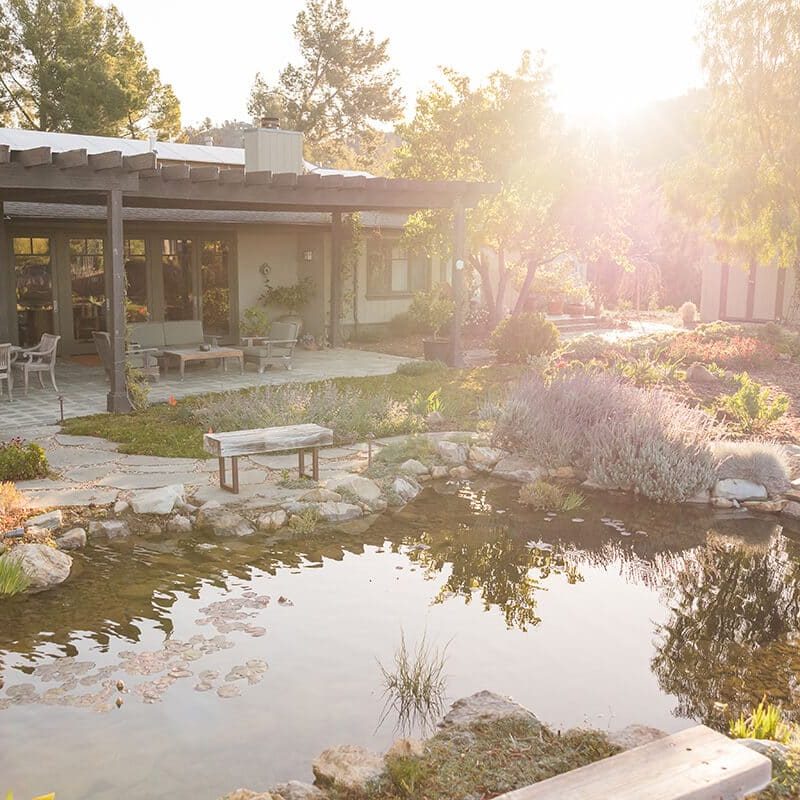 We're deeply committed to our outdoors and our customers, and that dedication shows in the quality of our craftsmanship and the materials we use. Ready to experience our expertise for yourself? Contact our team to schedule your consultation and gain a more sustainable, more beautiful outdoors today.
Your Best Choice for Complete Outdoor Solutions
As a leader among full-service landscaping companies in California, we offer a range of services designed to protect, nurture, and beautify your property. By staying on top of advancements in the industry, we're able to bring you the latest in landscape technologies to reduce water consumption while ensuring a vibrant outdoors for years to come. Find out more and view all of our offerings at our Services page.
Meet Our Team of Passionate Outdoor Professionals
Austin Woodworth, owner of Modified Landscapes Design has over 20 years of landscaping experience. As a young child, he always wanted to be outside playing with nature. When he graduated high school an opportunity in a small landscaping company became available, naturally Austin accepted. Through that first job he knew he had a future in landscaping. Years later Austin began his own company called Custom Landscape Creations, but with the fall of the economy he was unable to sustain his new business. He decided it was best to close the business, and quickly found a head of store management position at Ewing Irrigation & Landscape Supply. Here he quickly increased sales, customer experience and overall employee moral. He was at Ewing for 2 years, before heading over to landscape management company Stay Green as an Account Manager. At Stay Green he quickly increased customer retention and customer experience, as well as employee morale. About 5 years in upper management, Austin decided he had a real passion for leadership and wanted to branch out on his own as the need for professional landscaping increased.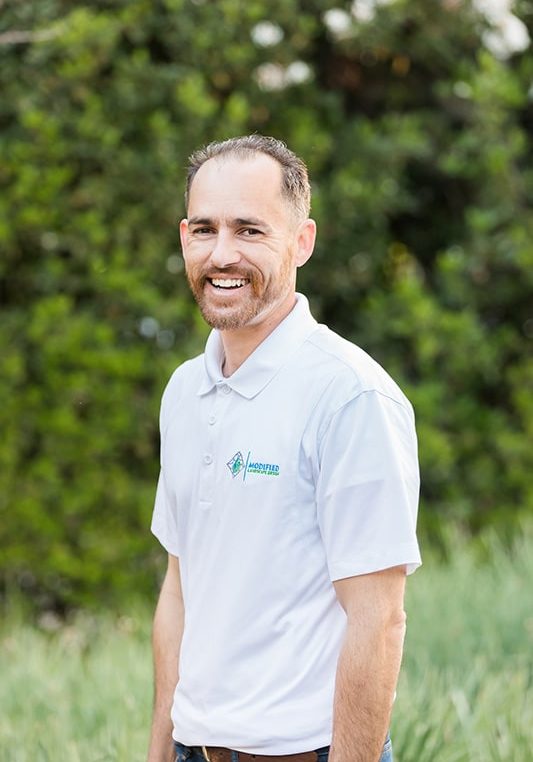 In Spring of 2015 Modified Landscape Design, formerly known as Modified Landscapes, was established by Austin and his wife Crystal. Behind Austin's leadership, Modified Landscape Design has created client's dream landscapes all across the Los Angeles and San Francisco Silicon Valley areas.
Austin can be described as honest and hard working. He enjoys building long lasting relationships with his clients that are based on quality work and honesty. Oftentimes, he will educate his clients not just through the process of the project but on other landscape needs and how to best sustain it with simple tips. As a leader, Austin has always been a team player and mentor. It is important to him that all members of his team feel valued and appreciated with honesty, respect and high expectations.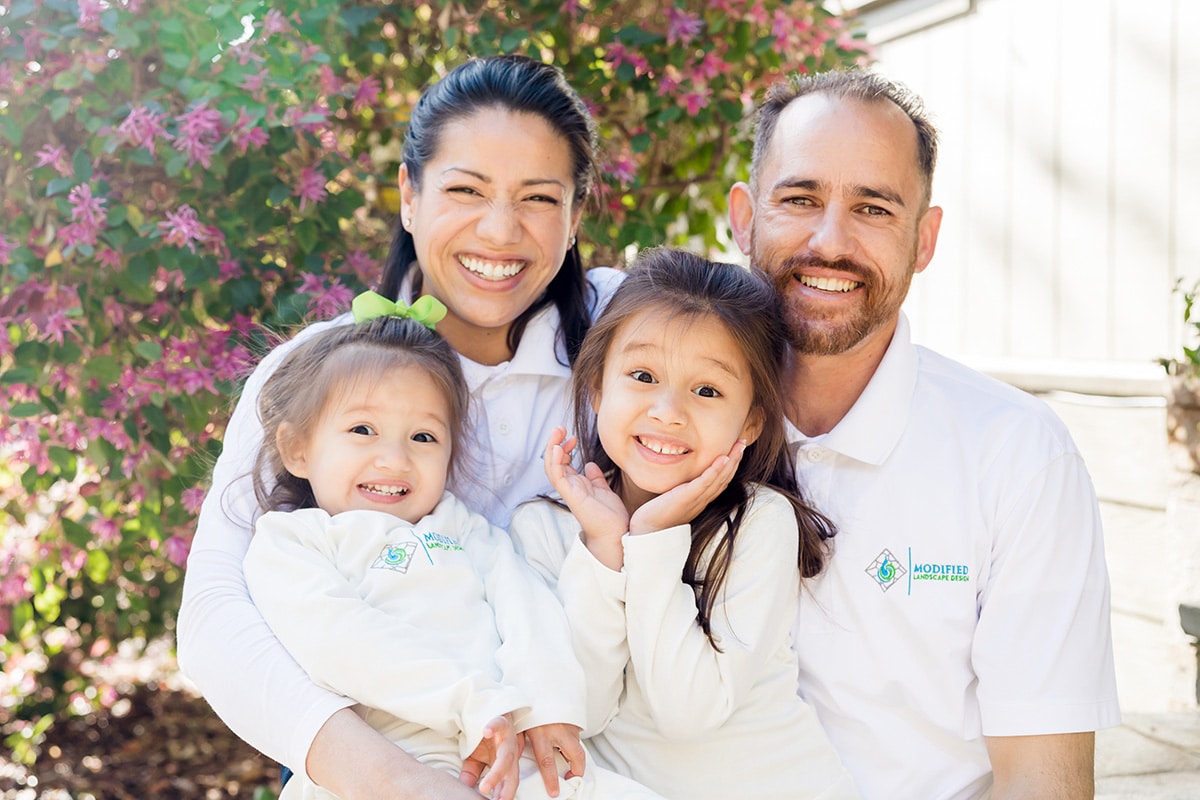 Austin is a proud husband and father to three daughters (photo of recent addition coming soon). He has two dogs Batman and Robyn. He takes pride in being the first family college graduate, receiving a BS in Kinesiology from Cal Poly Pomona in 2006. Owning a small business can propose its challenges when it comes to free time, but Austin does his best to manage all personal, family and business time. He loves spending time with his girls, music, family beach vacations, continuing to educate himself in something new monthly and playing golf.
Crystal Woodworth, VP of Operations and Co-owner
Crystal Woodworth, VP of Operations and Co-owner of Modified Landscape Design has 15+ years of experience in various industries primarily in business administration and customer relations. Born and raised in the Bay Area, at age 18 she decided to go to college in LA. In 2009 she graduated from Cal State Northridge with a BA in communications. After graduating, she quickly found herself employed at Northwestern Mutual. During her 6 years with Northwestern Mutual she moved throughout the company as Associate Financial Representative, Business Coach and Recruiter. While she loved her time with Northwestern Mutual, in 2016 she came on board as VP of Operations. Since then, she has been alongside Austin behind the scenes building this business into what you see today and actively growing our Los Angeles and Bay Area accounts.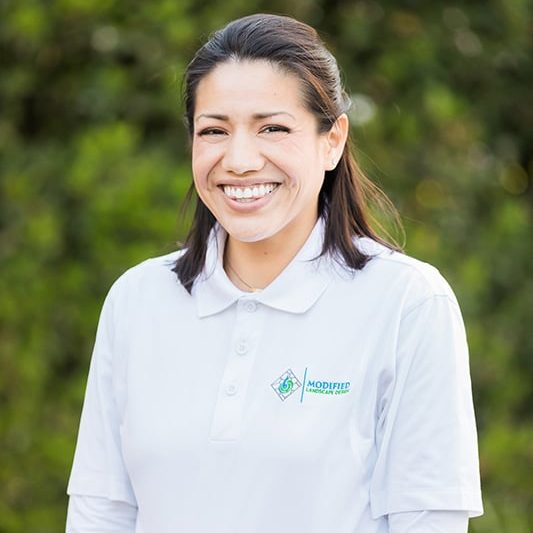 Crystal can be described as diligent and a solution provider. She enjoys leading the office and assisting Austin with a great client experience through the landscape design and installation process. Being well versed in business and customer service, she has provided an added value to our office, our process, and our customer service experience.  Alongside our office staff she is keeping us organized, handling client relations and marketing. It is important to her as well that all members of their team feel valued and appreciated with honesty, respect, and high expectations.
Crystal is a devoted wife to Austin and proud mother of three daughters (recent photo coming soon). She loves spending time with her family and friends, going on adventures or beach vacations, continuing to grow personally and professionally, and being creative.
Discover What Sets Us Apart from Local Landscaping Companies
Our work speaks for itself, but our customers have something to say, too. From our family-friendly professionalism to our punctuality and communication, learn what has kept home and business owners coming back to Modified Landscape Design.
"Austin, with Modified Landscape Design, was always professional and accommodating. I appreciated his thoughtful demeanor and positive attitude. He is also very knowledgeable about plants, which is important. I would recommend him for any landscaping, landscape lighting, or irrigation work."
Jessica H. - Beverly Hills

"We are extremely happy and highly recommend Modified Landscape Design. Austin and his crew are trustworthy, skilled hard workers, very respectable and now our dogs are safe. Our next project with Modified Landscape Design is to upgrade the lighting in the backyard so we can admire our beautiful fence during these summer nights.
Thank you Austin and Crew"
Rose F. - Eagle Rock

"Austin was great! He was able to help me troubleshoot my sprinkler control panel, dead tree removal (2x), and irrigation issues virtually via FaceTime!! We scheduled a call, as I am outside his service area, and he diagnosed the problem immediately. I was amazed how he could help me remotely. He provided a solution to my problem!"
Anthony B. - Palo Alto

"Austin did a great job on our back yard. He was easy to work with, and well organized in terms of getting materials delivered. He went above and beyond by fixing and enhancing little things that were outside of the scope of the contract. He's a talented, multi-skilled guy. The results were beautiful. Highly recommended."
Steve F. - Redwood City

"Since 2015 and for continuing years, Modified Landscape Design has been our source for irrigation installation projects in several areas of our 33-acre botanic garden. We could not be more pleased with their work. They know the best way to handle each project through the hills and curves and are willing to discuss it with us ahead of time. Their team is responsible and capable."
Beverly B. - Thousand Oaks

"What I like best about Austin and his team are the easy communication, the fair prices, and the very respectful nature of all of the staff."
Leslie T. - Pasadena

"Modified Landscape Design has taken care of our grounds for many years now. Austin and his team are first-rate in every way -- from the responsiveness to specific needs to the quality of service. Always professional and courteous. We couldn't be happier being their client!"
Megan B. - Chatsworth

"Austin and his crew are absolutely professional and a delight to work for! I highly recommend them."
Claire B. - Eagle Rock

"Austin did a wonderful job on our yard renovation project. He helped us form a concept and delivered the vision. He was responsive, efficient, diligent and reliable. We appreciate his work, it really helped make our new house our home. Highly recommended."
Austin W. - San Mateo

"Does great quality work. Well rounded in all types of services. Highly recommend."
Omar U. - Highland Park

The Best Choice for Landscaping Companies in Los Angeles and Silicon Valley
Modified Landscape Design is proud to serve customers throughout LA's San Fernando Valley and San Gabriel Valley, in addition to the Silicon Valley Area in San Francisco.
We also service the following San Francisco communities:
We work with customers in the following Los Angeles neighborhoods:
If you are passionate about creating sustainable landscapes in California, we want to hear from you. Visit our Careers page or Contact us to learn more about current openings with our fun and dedicated team of outdoor professionals.